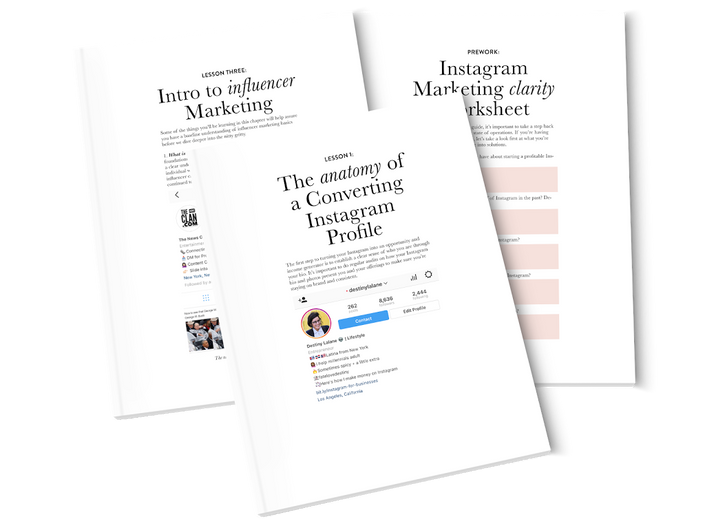 Influencer Marketing Bootcamp
Exactly how to make money as an influencer on and off Instagram in 2017.
Update coming January 15, 2018.
You want to know what's better than 30,000 Instagram followers?
Getting paid to create content that you love for brands you actually enjoy.
People care way too much about growing their Instagram following, but what about monetizing it?
Do you wonder how creative influencers make money on Instagram?
Do you dream of getting paid to model or shoot campaigns your favorite brands?
When I started working in marketing, I had never heard of influencers getting paid on social media to promote a product or post a photo attending an industry event. Well, at least not enough to make a full-time living.

I knew bloggers were getting free swag here and there, but what about cash? What about affording living in cities where fashion breeds?
After years of trying to figure it out (miserably) on my own, I found myself working in Los Angeles in Influencer Marketing connecting with beauty influencers specifically on Instagram to promote a new app.
Working 1:1 with influencers, I noticed some major problems...
Most Instagram accounts make don't make a dime, while others are are underpaid

Most influencers are promoting products and NOT getting paid

Most advice given to influencers is bad or outdated

Influencers aren't able to define clear ROI to businesses and aren't landing repeat deals

Most influencers don't know where to find business opportunities / products to review

Influencers aren't even using the full depth of the technology Instagram has to offer (video, stories, etc.)

Many influencers still think they need 10k followers to start monetizing their account


There's a lack of understanding of what brands want, what they're willing to pay and how to get their attention
Despite these common issues, we managed to find the right influencers to promote our product.
A few short weeks later, we launched our app at #8 in the US.
I couldn't believe how well our marketing strategy worked. By tapping into the audience of specific beauty influencers, we were able to get the attention of our target users at mass, leading to a successful launch campaign.
Ever since achieving these results, I couldn't stop talking about influencer marketing and it's importance to both brands and content creators.
These days it's the topic people ask me about the most.
And now I'm here to teach you what I've learned.
I cracked the code on building email lists, affiliate marketing, and turning followers into paying customers ALL through Instagram.
After working on the inside of the industry, I'm here to show you how it works. Now I consult people how to monetize their Instagram account.
Making money on Instagram doesn't require hundreds and thousands of followers. You just need a simple strategy.
Welcome to Influencer Marketing Bootcamp!
Working with startups on the behind the scenes of businesses recruiting influencers, I know exactly what companies are looking for, where they look for you, and most importantly, let's be serious -- how much they're willing to pay you for content.
Finally make money doing what you love on Instagram

Grow your account WHILE getting paid to create content

Learn how to MAXIMIZE your collaborations with brands to achieve greater ROI

Work with GREAT companies that support your mission

Create meaningful relationships with brands to create long lasting partnerships and a more CONSISTENT INCOME

Understand the ins and outs of influencer marketing

Use Instagram to build a super TARGETED email list

Start attracting your target audience and customers

Learn how to find PAID sponsorships

Use Instagram to BUILD your career as an influencer or freelancer

I'll be honest, none of this is that difficult. You just need the right plan.
Through strategic use of Instagram I ...
Opened the doors to write for Elite Daily, Thought Catalog, Paleohacks, as well as being featured on Sirius Radio, Levo League and various media outlets.

Built a successful career in influencer marketing.


Receive daily consulting and freelancing leads through Instagram, Facebook, Twitter, Linkedin (without spending a dime on ads!)
I decided to package all of the tips, tricks, and tools I picked up over the years into one convenient package.
Introducing:
Instagram Influencer Marketing Bootcamp
Inside my Influencer Marketing Bootcamp, I will show you EXACTLY how to monetize your account and build a credible brand.
Influencer Marketing Bootcamp covers core strategies and breaks down step by step exactly what you need to know and how to execute a successful Influencer Marketing strategy. Anyone can do this!
Seriously, the dark world of Instagram is being run by 14 year olds with Kik accounts and iPhones. I want YOU to cash in on the earnings.
Here's a preview of what you can expect to learn when you enroll in Influencer Marketing Bootcamp:
How to reach out to brands and how to find PAID sponsorship opportunities

What HASHTAGS should you be using and time saving hashtag tips

How to AUTOMATE your content creation strategy

Discover how to locate your target audience on Instagram to learn what they CRAVE

Discover how to build an EMAIL LIST through Instagram

Learn how to attract followers that CONVERT into customers, not just your competition

Discover new ways to integrate Instagram into your current marketing strategy

Create your own custom templates and presets to save time when editing photos for Instagram

Start building COMMUNITY by collaborating with influencers in your niche to cross promote

Discover how to analyze Instagram ANALYTICS to learn more about your audience, find ideal brand sponsorships, and create a pitch deck for your Instabrand

Learn how to DESIGN a mood board, what type of photography gets the highest engagement, and what brands look for in your feed

Learn how to find and promote affiliate offers that are on BRAND

Instant access to the best apps and websites to get the most out of your account

Create systems to grow, track, and manage your Instagram account

Learn how to develop content that delivers value, not just hard sales pitches

Order my Influencer Marketing Bootcamp, and start targeting your ideal audience and start crushing with Instagram TODAY!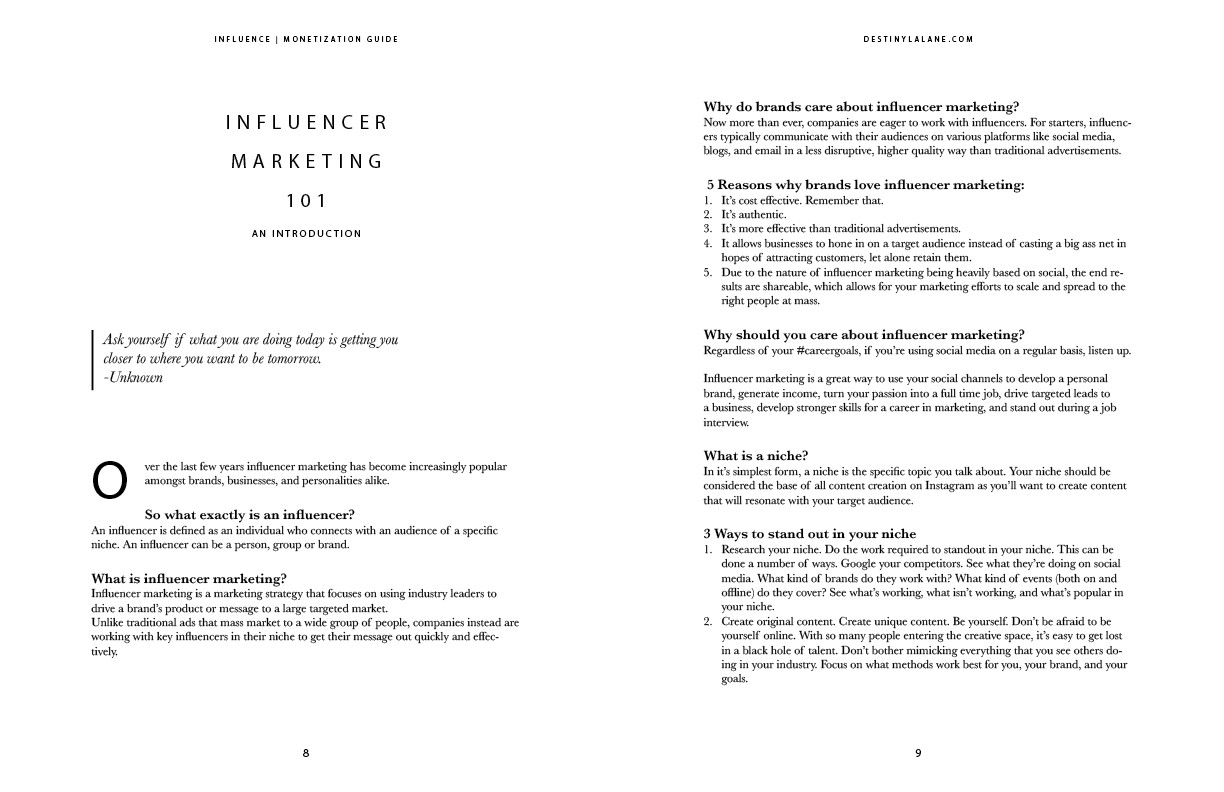 Chapter 1: The foundations - (14 lessons)

Chapter 2: Conversion - (3 lessons)

Chapter 3: Content - (5 lessons)

Chapter 4: Hashtags - (5 lessons)

Chapter 5: Instagram Live + Stories - (3 lessons)

Chapter 6: Analytics and growth - (3 lessons)

Chapter 7: How to create a media kit and portfolio - (4 lessons)

Chapter 8: How to monetize Instagram -

(8 lessons)
Bonus #01:
How to Research and Negotiate a Salary (Guide + Workbook)
($20 value) - included with purchase
This is a detailed workbook + self paced guide for anyone looking to gain confidence when it comes to talking to brands and companies about money. If you're wondering how to set up a brand deal, the different ways to monetize your social media or blog. This guide is 60 pages long.
Bonus #02:
($100 value) - included with purchase
When I first started using Instagram for my business + brand, the thing that held me back the most were hashtags. Knowing that there were only 30 I could use on each post to reach a new audience, I was always hung up wasting time trying to figure out what hashtags to use to get the most out of the platform.
I created this hashtag guide as a go to resource for anyone looking for more than just a copy and paste resource when it comes to finding the best hashtags to use on Instagram.
This resource will also help you figure out how to create your own strategy when it comes to using hashtags on Instagram.
During this Influencer Marketing course, we'll focus on getting you to achieve one of a few outcomes:
Develop a targeted list of brands and companies you want to work with + retain your first influencer deal
Find clarity in exactly what your goals are with your personal brand
Implement Influencer Marketing into your personal brand strategy
Develop a strong personal brand using social media with a focus on Instagram, Twitter, and your favorite major websites in your niche
Create a execute a strong pitch email that generates responses from brands looking to work with you as an influencer, content creator, or speaker
With the guidance of this curriculum, I know you'll be able to take actionable steps towards achieving these goals during the course.
What you will not receive when you enrolling in this course:
Results without putting in the work
Legal, insurance, or tax advice
How to outsource your business
How this course works
After you enroll into this bootcamp, you will receive immediate access to the complete course work to be completed at your own pace.
This Influencer Marketing course will walk you through step by step everything you need to know about what it takes to work with brands from the perspective of someone who's worked both on the inside and outside of Influencer Marketing.
I'll share with you everything you need to understand, know and DO to land a sponsored content deal in as little as 30 days.
This program was designed to help you:
Develop a career as a blogger, influencer or in Influencer Marketing with the knowledge you need to know to avoid making crucial time and money making mistakes

Find clarity on what type of brands you want to work with

Take strategic action on a consistent base to land your dream content deal

Turn your passion and knowledge into an income generator

Gain confidence in your personal brand and career as an influencer
Filled with specific examples, screenshots, strategies, and action plans - this will help you save time and avoid critical mistakes when it comes to landing paid opportunities as an influencer.
This program teaches you first about the industry and then how to pursue a successful career as an influencer within the industry of your choice. Beginners to the industry to seasoned vets can find success through this program.
Video screen shares

Audio

Downloadable PDFs

Live video strategy group sessions

Viewable on any device
"Destiny is not only incredibly talented but she is one of the most hard working individuals I've ever met. She is constantly striving to educate herself and others around her in any way that she can. I've had the opportunity to work with her as she helped mentor and coach me to find the perfect social media job. Her knowledge and passion for helping other's is what makes her one of the best there is. I'm endlessly grateful for her friendship and advice."
- Kay Brown, Content Creator, Betches
Why I created this course
Why I created this course
When I moved to Los Angeles on a whim, I was taken by surprise when I landed the marketing job of my dreams.
Working on the inside of the industry, I learned the ins and outs of how brands work with content creators, influencers, artists and bloggers.
When we successfully launched an app at BeautyCon that was in the top ten downloads in several countries, I truly realized the power of influencer marketing.
The concept wasn't new to me, but at the levels these key influencers and bloggers were monetizing their operations, I felt inspired.
As I started to grow my blog and brand, I too started to receive opportunities to work with brands as an influencer.
I started to receive emails, calls and messages from people I've met overtime asking me if I could coach them through finding and landing their dream content sponsorship.
I wanted to help others change their lives and businesses, but with only so many hours in a day to meet one on one with people, I decided to create this course.
I've taken my biggest successes and most embarrassing failures and turned it into an actionable, affordable and simple streamlined solution for anyone looking to work as an influencer.
My work and insights have been featured
100% Satisfaction Guarantee
If you do the work and truthfully feel that you didn't get value from this course, email me your coursework within the first 30 days of your purchase in order for us to issue you a refund.
Your Instructor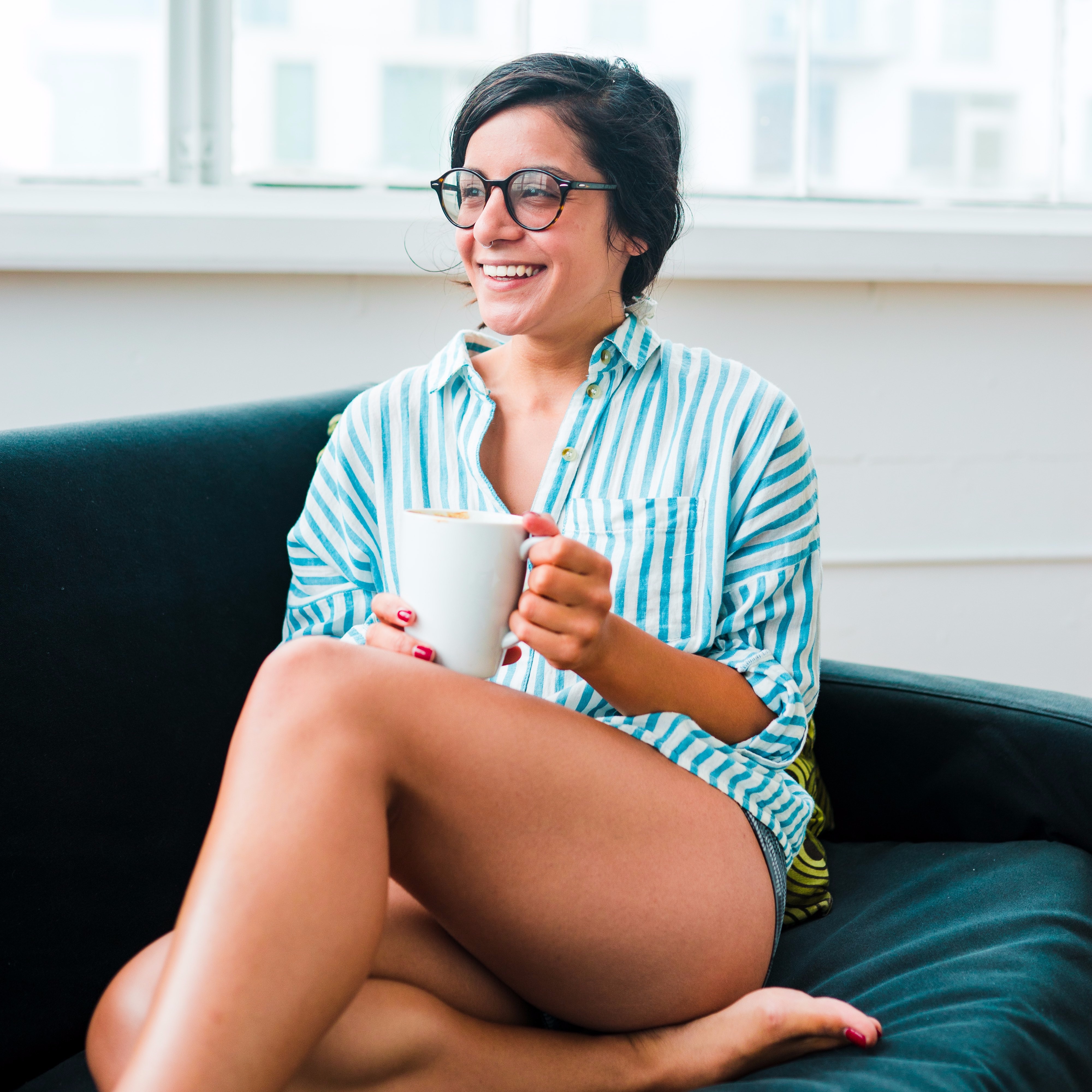 Hey there — my name is Destiny! I help millennials adult and live their best lives. I started working in tech in 2014 and now work as a Recruitment Consultant. I've put together a step by step guide on building a network from scratch and job searching in a competitive landscape. It doesn't matter what you know, if you don't know how to get it in front of the right people!
I created this course to help you look for a new job, learn how to work remote, build a strong network and fall in love with your career.
"Destiny's products and guidance were unbelievably helpful to me when looking for my next path regarding my career. I purchased her 'Hack Your Career With LinkedIn' webinar last December and from that, I was offered a great position. I was even able to negotiate like a boss after taking advantage of Destiny's resources and articles. I can't say enough about how relatable and real her content is, especially for a constantly confused millennial trying to figure out this adulting stuff."

Frequently Asked Questions
How long will it take me to complete the course?
This course is a completely self-guided curriculum that allows you to work through the content and assignments at your own pace. As I can't decipher how clear you are on your remote work journey, how much experience and research you already have completed or may require, how quickly you're ready to take action, or how quickly you make decisions, it is difficult to estimate how long it will take you. Past students have completed and implemented the course work in as little as five hours.
How long do I have access to the course?
Once enrolled, you will have immediate and unlimited access to the course content, lessons, and downloads for the lifetime of the course. You can access the course from any desktop or mobile device.
Is there a way to get support and feedback during this course?
When you purchase this course, you get open inbox access for the first 30 days after your purchase. At any time, you can email me your questions, comments or feedback and I'll reply within 48 hours of receiving your message. I do my best to reply within a few hours as much as I can. As someone who designed and purchases courses, I know how excited you may be to complete and implement the coursework.
What if I am unsatisfied with the course?
If you do the work and truthfully feel that you didn't get value from this course, email me your coursework within the first 30 days of your purchase in order for us to issue you a refund. Just being transparent, if you do not submit your completed coursework within the 30 day period, a refund will not be issued.
I still have a question about this course, how can I reach you?
I'll happily answer any and every course related question that comes my way. Feel free to email me at hi AT destinylalane DOT com.